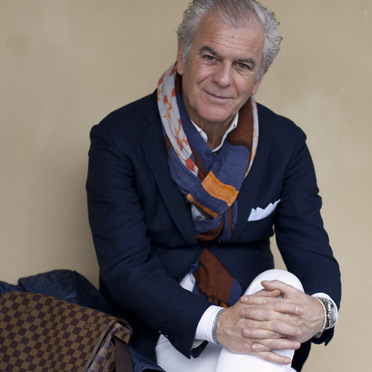 Never alone
…is a high-touch individual, maintains a good relationship speaking to representative via phone
Income
Fashion promoter & buyer for Kering Group (Gucci), Prada & Valentino.
High-net worth individual.
Devices
Not confident with technology, although owns cars, a boat & and other incidentals.
Windows Tablet, a familiar way to check-in review the diary, email & purchases.
iPhone Pro Max, because that was the best one.
Incidentals, multiple DSLR cameras, gadgets – under-used, little interest in technology.
Companions
Marital Status: Single, but never alone
Multiple travel partners, for business & pleasure
Two Children (Adults)
Pain-points
If only technology were easier to use – would tell you how much he likes sea-food, deck-shoes & Borgo Egnazia!
Occasisional data entry shows that filling out a questionnaire results in frustration.
Merits
+500,000CHF, Swiss Bank Account for trips & travel per. anum.
€50.000 avg. value per trip, 4-6 times each year.
Stimulators
Valuable if we can encourage other HNWI into the company as clients… Perhaps through his PA.
No social media – encourage word-of-mouth and sharing links with friends
Doesn't forward email campaigns that are aimed directly at his contacts
Aspirations
Wants to explore coastal regions with partner or, safari with his adult children and their families again…
Goal is to travel even more as work is delegated online.
Persuasers
A recent gift of some deck-shoes made all the difference when he travelled for a second time to the same hotel. He became a loyal, regular customer after this thoughful gesture.
Priorities
Get more personal information from this individual